Betterment vs Wealthfront: Which Online Advisor Is Better?
Most of us need someone or something to support our investment decisions. Even though a new robo-advisor is launched every few months, the only ones that have pioneered and revolutionized the way people perceive investments are Betterment and Wealthfront. In this post, we will present you a detailed Betterment vs Wealthfront comparison to help you choose one of them in a quicker and easier way.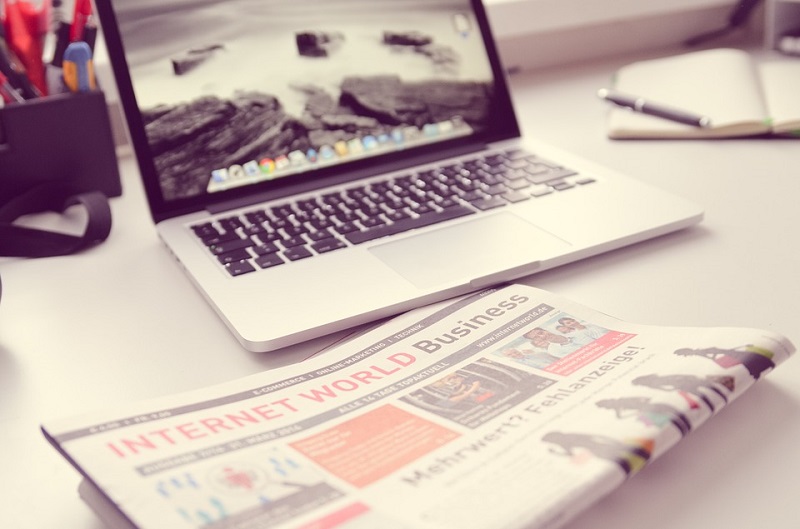 Betterment Vs Wealthfront – Choose the Right One for You
There is no loser in the Wealthfront vs Betterment comparison. Both of them are strong contenders. Your choice depends a lot on your personal needs and preferences. Moreover, they are automated investment services that work in a similar way. However, it is true there are some differences between the two of them.
Betterment considers your risk tolerance to create a portfolio. The second step that this robo-advisor does is to place you in an exchange-traded funds asset location that suits your risk tolerance. Basically, it is the same procedure that a financial advisor would do for you only that with Betterment, you will receive a completely automated support.
You will make all your investment decisions within the platform. Also, the only variable that makes the difference between different investors is represented by allocation. You will not only gain a well-organized and a professionally managed portfolio of your investments, but it will also be a low-maintenance one. Basically, you don't have to do anything else than funding your account.
Wealthfront functions in a very similar way as Betterment. Once they establish your risk tolerance, they will assign you with an allocation of exchange-traded funds, and they will base this decision on MPT, which is the Modern Portfolio Theory.
Both platforms provide plenty of features and facilities such as popular investment account types, tax-loss harvesting, referral programs, and more. A competitive advantage that Betterment has is the no-minimum-deposit policy. To open an account on Wealthfront's platform requires a minimum deposit of 500 dollars.
The biggest drawback of a robo-advisor is represented by fees. Wealthfront has a 0.25 percent management fee, but once you reach your first 10,000 dollars, the account will be managed free of charge. Betterment, on the other hand, requires a management fee that can range between 0.15 and 0.35 percent.
To help you get more details and support your decision, we created this detailed yet concise Betterment vs Wealthfront comparison in terms of pros and cons.
Betterment Pros and Cons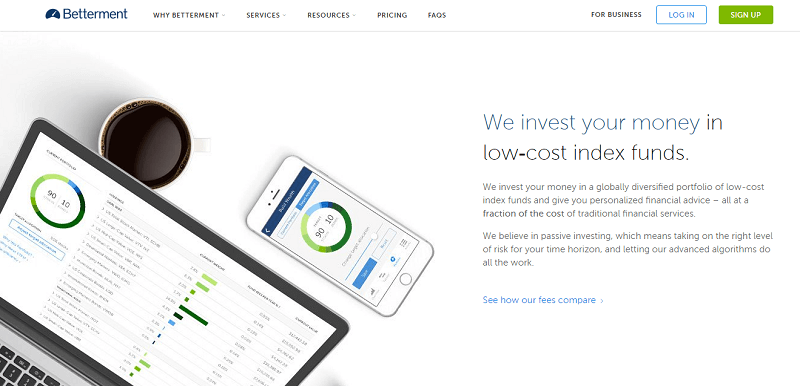 Pros
You will not have to pay a minimum deposit once you open a new account with Betterment.
The platform offers plenty of features as well as a diversified portfolio.
Betterment's low management fees translate into a huge competitive advantage of this platform.
It provides useful and innovative goal-based tools.
Betterment's signup process is quick and easy. It takes only five minutes to create a new account.
Cons
The platform does not offer an advanced tax optimization tool.
It is quite expensive for those investors that have balances below 10,000 dollars.
We can easily observe why Betterment attracts plenty of clients and assets. All these are due to its innovative tools, reasonable management fees, and diversified investment portfolios. This platform is extremely appealing, especially for those investors who have balances of at least 100,000 dollars. Chances are you will pick Wealthfront or another option in the search for lower management fees and smaller balances.
When you sign up, Betterment will provide a quick questionnaire in which it will ask you to provide your age and your current annual income. Depending on your answers, the platform will recommend you certain goals, including those related to safety nets, retirements savings, and even a general investing objective.
Wealthfront Pros and Cons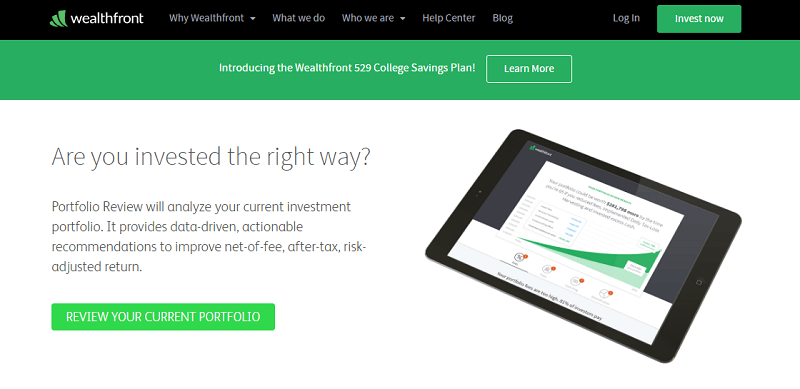 Pros
Wealthfront provides a diversified portfolio.
It has lower management fees compared with other robo-advisors.
You will receive a tax optimization support.
The account's minimum deposit is 500 dollars which is quite low considering the market's average.
Everybody knows and appreciates this platform for offering automatic rebalancing options.
This platform supports a wide range of accounts such as taxable accounts, IRA, trust accounts, and more.
Cons
Investors don't receive any discounts for large balances.
There are no fractional shares provided by the platform.
Wealthfront is a great option for both large-balance investors and newbies. If you are searching for an automated investing solution that is also low-cost, this platform will provide you all the necessary tools. If your balance is 15,000 dollars or less, you will have access to active management which is free of charge. This feature is offered by an experienced leader in the automated investment advising field. In other words, this option represents a real competitive edge. Bottom line, it is a great robo-advisor for large accounts.
As you can see, both of these digital investment advisors are a great choice. So, you can use Betterment or Wealthfront, depending on your needs. If you still cannot make up your mind, there are also other choices out there. For example, another great digital investment advisor that everyone is talking about is Vanguard. This is why we wanted to talk a little about it also.
A Concise Betterment vs Wealthfront vs Vanguard Comparison
Now you know what Betterment and Wealthfront offer and what their features are. Both have low advisory fees and small account deposits. Moreover, they are transparent when it comes to their approach and methodology. But you know what else provides all these options? Bonus tip: it is another great automated investment advisor, called Vanguard. Let's find out more about this platform.
Vanguard Pros and Cons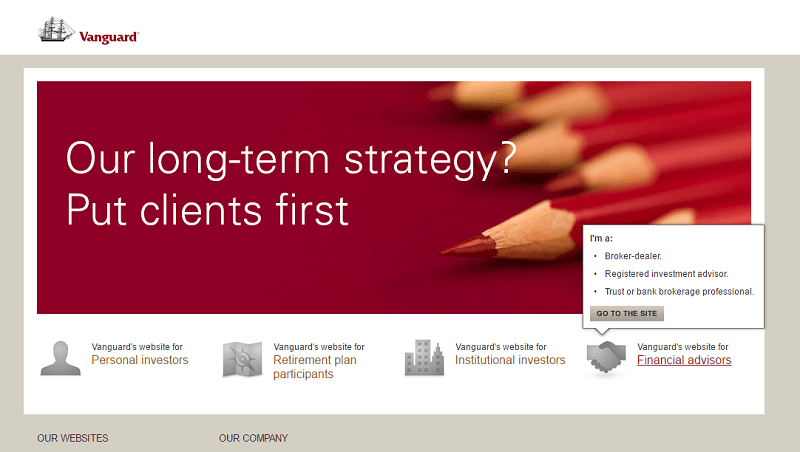 Pros
It provides amazingly low fees and offers some mutual funds that have zero trade commission.
You will have access to an automated dividend reinvestment option.
You will have online tools that analyze your portfolio such as external accounts. However, other platforms offer more diversified tools.
Cons
Although it is a good platform, Vanguard's interface might seem a little old-fashioned compared to other automated services.
You will have to be more patient because moving sweeps and funds from an account to another might take longer than expected. It sure takes longer than other investment-supporting services.
You will not receive an automated rebalancing option and moving your money requires a relatively manual process.
So, as you can see, all three platforms are good, but some are even better than others. At first glance, it appears that Betterment and Wealthfront work better, simpler and quicker than Vanguard. As you probably guessed, because this is, after all, a Betterment vs Wealthfront comparison, my top recommendations are the following, in this order: Betterment, Wealthfront, Vanguard.
Final Words
My personal choice, as well as a recommendation in this Betterment vs Wealthfront comparison, is Betterment. However, both of them are better options than Vanguard. On the other hand, if your budget is quite low, you can opt for Vanguard without worrying that it won't deliver what it promises, even though it is less automated than the other two options. The choice is all yours!
Image source: 1