What Is the Statute of Limitations on Debt?
Assuming good character and responsible financial stewardship, consumer debt can still plague borrowers for years. A volatile economy, unforeseen health care expenses, sudden unemployment or hostile litigation can each siphon large amounts of money from financial holdings. This leaves many individuals and families at a loss when it comes to making payments on credit cards and installment loans. Depending on the magnitude of monies owed, some creditors will cut their losses, especially if the debt gets too old to collect.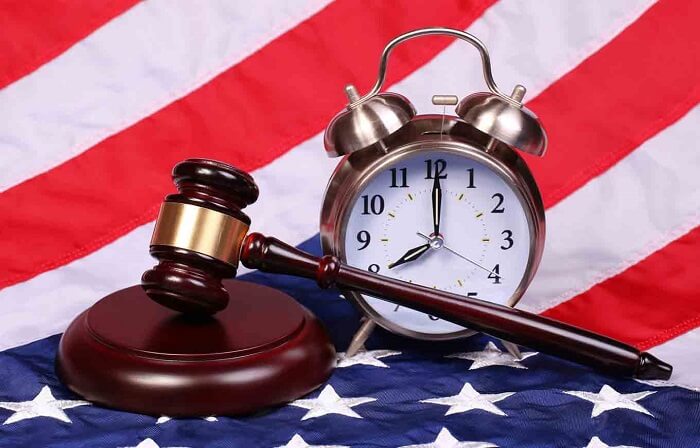 Secured Loans Not Included
A home mortgage or automobile loan, of course, are based on the value of the collateral. Lenders have recourse for non-payment or default on these forms of credit, namely seizure or repossession. The subject property reverts to the bank or finance company to be included among its assets. With real property, this legal process is known as foreclosure. Accordingly, lenders need not ask what is the statute of limitations on debt. They can take action as soon as the loan terms allow.
Still, financial institutions are not eager to own a large portfolio of real estate. Managing and maintaining property - real or personal - is time-consuming and expensive. Nevertheless, the headaches that go with it are preferable to the outright loss of hundreds of thousands of dollars. For this reason, debt expiration is most relevant to unsecured debt that was issued solely on the applicant's qualifications.
Statute of Limitations?
Important to remember is that a statute of limitations applies only to a collecting agent's authority to sue the debtor for the outstanding balance (and legal fees, sometimes). It does not require the creditor itself - a bank, for instance - to wipe the obligation from the books. However, a collection company can actually purchase the debt from the originating creditor, thereby transferring the loan from one owner to another.
The U.S. Federal Trade Commission refers to obligations the age of which surpass a statute of limitations as "time-barred debts." If a collector contacts a debtor about a time-barred debt, the agent could be in violation of the Fair Debt Collection Practices Act. Federal agencies and regulations notwithstanding, anyone asking what is the statute of limitations on debt must pose that question to state authorities.
Different Rules for Different States
Yes, states determine how old a debt must be before restrictions on collectors kick in. On average, three to six years normally keep debts open for collection, though a few jurisdictions extend this to 10 years. More often, the state in which the borrower executes the credit agreement is the governing jurisdiction. Therefore, an Alaska resident who applied for a credit card in Louisiana is subject to a 10 year statute, as opposed to Alaska's more preferable (to debtors) six year limit.
The most optimal course of action is for the debtor to check with the attorney general's office in the state of residence to confirm what is the statute of limitations on debt. A representative will either give a direct answer or refer the inquiry to another state.
The Type of Contract Matters, Too
People incur debt in a variety of ways. Commonly, as with most installment loans, the borrower signs a written contract. Yet a verbal contract is equally binding, though much more difficult to compel in a court of law. The secured contracts mentioned above are frequently put into force by means of a promissory note whereas a revolving credit line - a credit card, for example - has a different contractual structure. States may impose separate statutes of limitations on each of these.
When Does the Clock Start Ticking?
One a consumer gets the answer to "What is the statute of limitations on debt?" another question immediately surfaces. Three, six. seven years from when? At what point does a debt begin to, for lack of a better term, age?
A good rule of thumb is to begin at the date of last activity. This threshold is broad: the borrower might make a payment. Alternatively, the collector sent a remittance letter. A phone call between parties counts, as does a notification from the borrower's attorney. Each time contact is established the clock is reset. Only the equivalent of complete radio silence allows time to continue elapsing.
What Happens with Judgments?
If a creditor successfully persuades a court to impose a judgment on the debtor, it now has a set of tools to collect the debt that it did not have before. It can attach a lien to property, so the owner/debtor is unable to sell. Additionally, the creditor can garnish a percentage of the judgment debtor's wages until the obligation is satisfied.
However, if these options prove futile, even court-ordered judgments lapse, Again, it is for state legislators to determine how ripe a judgment must be before it loses its effect. Ten years is common but some states - like New York - allow for 20. Of course, the creditor can always ask the court to renew the judgment.
When Collectors Keep Calling
Some collection agencies might contact a debtor over a time-barred debt. In most instances, at any rate, they have little leverage and the consumer can request a cessation of communication. Any legal action after a statute of limitations kicks in will have little chance of success.
If a debtor does his or her due diligence, and determines that a statute of limitations is in effect, the borrower should contact an attorney. Even when the law is on your side, you best avoid any loopholes or exceptions. Debts have a way of haunting you, otherwise.
Summing Up
What is the statute of limitations on debt? It all depends on the kind of debt, where you live and when the last activity on the account occurred. The fact remains that most all debts have expiration dates but a host of variables can keep them alive long after. Competent and experienced legal representation is the best defense against persistent debt collection efforts. Relying solely on a statute of limitations ignores important contingencies.